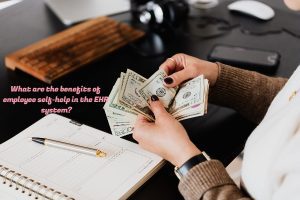 1. personal Information
The personal information of employees is generally kept and maintained in the human resources department through paper or EXCEL forms after entering the job. Therefore, employees who want to view or modify their personal information need to cooperate with the query and modification through HR. This often happens. It takes a long time for HR to work.
But the ehr system is different from employee self-service, hr ess,it allows employees to query and modify personal information anytime and anywhere, without being restricted by time and space. The modified information will be automatically updated after the process is approved, and there is no need to maintain it again. This helps to ensure the accuracy of the information, while also reducing the time cost of HR in these tedious tasks.
2. Time Attendance Holiday Information
At present, most companies record attendance information through punching machines. Therefore, when employees want to view attendance records, they often need human resources to assist in querying attendance records. The employee self-service in the human resources system can realize the employee's independent check-in record, and it is no longer necessary to use HR to assist in this link.
Furthermore, when the company can analyze and adjust the employee scheduling situation, we also need to assist in the notification through the important link of the human resources department, so that the employees can understand the specific staffing arrangements. If the time is wrong, it will easily lead to confusion in the accounting work environment, which will bring economic losses to the corporate culture. When the company makes adjustments to employee scheduling, employee self-help can also promptly notify employees to obtain specific information about scheduling, shifts, and shifts, so that they can make time arrangements to prevent unnecessary losses.
In addition, when there are employee-related annual leave and welfare leave in the company's attendance system, if the company does not notify in place, it will easily cause employees to frequently consult HR personnel. Some personnel may also go to the human resources department to inquire about the specific situation. , And this often delays HR's work efficiency, and also has a certain impact on employees' work mentality. Employee self-help in the human resource system can help employees to inquire about their own types of welfare holidays, so as to better understand the company's holiday system, thereby reducing the disharmony in the internal atmosphere of the company caused by poor communication.
related articles: